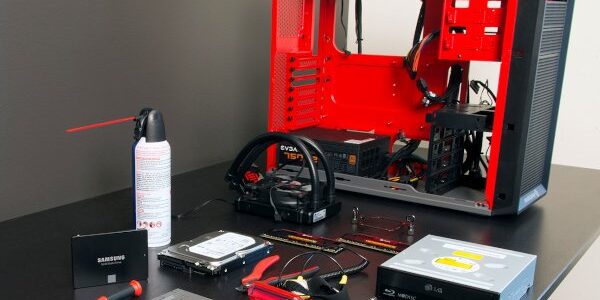 Build Your Own Computer
Build a Desktop PC for < $600 - A List of Parts
Recommended List of Components to Build a Desktop Pc for Low Cost
Many people do not realize how easy it is to build a desktop PC from parts. In fact, many systems that users build can outperform purchased desktop computers. The biggest challenge of putting together a computer system is typically finding what parts to buy. That is where this guide helps.
This is really a guideline for those looking to put together their own computer system but don't want to break the bank. For less than $600, it is possible to to put together a highly functional computer system that works extremely well for general purpose computing such as internet access, office applications and even digital photography and video. Below is a list of parts that we have selected that can be used to put together such a system. It includes all of the parts that are internal to the computer plus the operating system. It will be necessary to buy a monitor and other peripherals such as speakers to complete it, unless you can reuse your current ones.
Many of the parts on this list are sold as OEM products. They are the same items that would come in a retail package but have less material as they are sold in bulk typically to builders. They should carry the same warranties and protections as retail box products.
Remember that this is just a guide of recommended products. There are many alternative components available that will perform just as well. In addition to the name of the item, a link is included for shopping for the components.
The Build a Desktop PC – Budget PC Components
Hard Drive – Seagate Barracuda LP 2TB SATA

Seagate is one of the oldest names in the hard drive market but that also means that have lots of experience. This drive also offers a nice balance of size and performance at a very good price.


DVD – ASUS DRW-24B1ST SATA

This low cost DVD burner supports all of the current DVD media standards with 24x speeds for DVD+/-R media. In addition, Microsoft offers Windows installers on USB drives, although they are more expensive.


Keyboard and Mouse – Logitech MK270 Wireless Keyboard and Mouse
Operating System – Windows 10 Pro 64-bit (CD)

Windows 10 operating system is also avaiable on a USB flash drive for easy installing without an optical drive. This version comes on a DVD disk (which is cheaper than then USB flash drive version). Also, the DVD image can be transferred to a USB drive.:



Total Cost: $566.00
What Else is Needed to Build a Desktop PC
This list of components will make up the heart of the computer system but it still needs a monitor. There are a wide range of monitor sizes but the most affordable tend to be the smaller ones. We recommend looking at the BenQ 27 Inch IPS Monitor on Amazon. There are also no speakers or headphones for the audio but some monitors may have this built in, although most monitor speakers sound weak compared to standalone models.
Putting it All Together
Once you have all the parts, you may assemble them and install the operating system. For tutorials on the various steps to install the parts together into the computer system, check the following: About.com offers a number of individual Tutorials for the various steps. For those with access to a Kindle e-reader or application, you can also pick up a copy of BUILDING YOUR OWN GAMING PC HANDBOOK (available on Amazon) which offers detailed images and descriptions.
---