Description
This is a Used Motherboard Asus TX97 XE from a working system. Please note that these motherboards did not include a back plate and none is provided. Typically, they were installed in cases that had built-in back plates.
Features of the ASUS TX97 XE Motherboard:
The ASUS TX97 XE careful design is for the demanding PC user who wants many features in a small package.
This motherboard:
Intel Chipset: Features Intel's 430TX PCIset with I/O subsystems.
Versatile Processor Support: Intel Pentium ® 75-233MHz (P55C-MMXTM, P54C/P54CS), IBM ®/Cyrix® 6×86-PR166+ (Rev 2.7 or later), IBM®/Cyrix® 6x86MX TM (PR166 & faster), AMD-K5TM (PR75-PR133), AMD-K6TM (PR166 & faster).
Versatile Memory Support: Features two DIMM sockets to support 8-128MB 168-pin 3.3Volt SDRAM/EDO memory modules up to 256MB. Provides four SIMM sockets supporting 4-64MB 72-pin Fast Page Mode (FPM) or Extended Data Out (EDO) memory modules to 256MB.
SIMMs and DIMMs cannot be used at the same time.
Easy Installation: Features BIOS that supports auto detection of hard drives, PS/2 mouse, in addition to Plug and Play devices to make setup of hard drives, expansion cards, and other devices virtually automatic.
ISA & PCI Expansion: Provides four 16-bit ISA and four 32-bit PCI slots.
Super Multi-I/O: Also provides two high-speed UART-compatible serial ports and one parallel port with EPP and ECP capabilities.
Desktop Management Interface (DMI): Supports DMI through BIOS which allows hardware to communicate within a standard protocol creating a higher level of compatibility. (Requires DMI-enabled components.) (See section V)
PCI Bus Master IDE Controller: Comes with an onboard PCI Bus Master IDE controller with two connectors that supports four IDE devices in two channels, supports PIO Modes 3 and 4 and Bus Master IDE DMA Mode 2, and supports Enhanced IDE devices such as Tape Backup and CD-ROM drives. Supports two drives of either 5.25-inch (360KB or 1.2MB) or 3.5-inch (720KB, 1.44MB, or 2.88MB) disk drives. Supports Japanese "Floppy 3 mode" (3.5-inch disk drive: 1.2MB) and LS-120 floppy disk drives (3.5-inch disk drive: 120MB, 1.44MB, 720K). BIOS supports IDE CD-ROM or SCSI device boot-up.
Level 2 Cache: 512KB Pipelined Burst SRAM onboard.
Optional Features:
IrDA: Supports an optional IrDA receiver/transmitter device.
Audio: Supports optional onboard Creative Labs® Audio with 3D sound.
IrDA Connector: Supports an optional infrared port module for wireless interface.
TX97 XE Performance:
SDRAM Optimized Performance – ASUS TX97 smart series motherboards support the new generation memory – Synchronous Dynamic Random Access Memory (SDRAM) which therefore increases the data transfer rate from 264MB/s max using EDO memory to 528MB/s max using SDRAM.
Double the IDE Transfer Speed – ASUS TX97 smart series motherboards with Intel 430TX PCIset improves IDE transfer rate using Bus Master UltraDMA/33 IDE which can handle data transfer up to 33MB/s. The best of all is that this new technology is compatible with existing ATA-2 IDE specs so there is no need to upgrade current hard drives or cables.
Concurrent PCI – Concurrent PCI allows multiple PCI transfers from PCI master busses to memory to CPU.
ACPI Ready – Asus implements ACPI (Advanced Configuration and Power Interface) on all ASUS 430TX series of motherboards. Consequently, ACPI provide more Energy Saving Features for the future operating systems (OS) supporting OS Direct Power Management (OSPM) functionality. With these features implemented in the OS, PCs can be ready around the clock everyday, yet satisfy all the energy saving standards. To fully utilize the benefits of ACPI, an ACPI-supported OS such as in the next release of Windows 95 must be used.
PC '97 Compliant – Both the BIOS and hardware levels of ASUS TX97 series of motherboards meet PC '97 compliancy. The new PC 97 requirements for systems and components are based on the following high-level goals: Support for Plug and Play compatibility and power management for configuring and managing all system components, and 32-bit device drivers and installation procedures for both Windows 95 and Windows NT.
Parts of the TX97 XE Motherboard: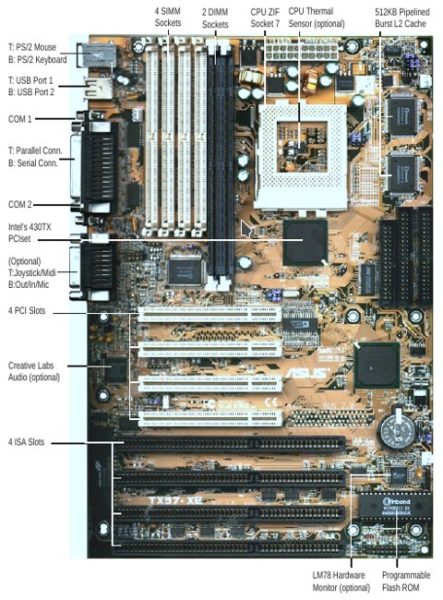 Register to receive special deals!
---
---