Description
This is a used notebook 8540W HP EliteBook with some cosmetic scratches. Fully functional with new battery, new 500GB SSD, 8GB RAM, and Dual boot: Windows 10 & Linux Mint 20.2. HP Power Adapter included. This unit has a display resolution of 1366 x 768 with external port supporting resolution up to 2560 x 1600. The original OS was Windows 7 and can be installed by downloading a copy from Microsoft and using the Product Key located on the back of the unit. It has been upgraded to Windows 10, but some of the hardware is lacking Windows 10 drivers, although the unit works fine regardless. It also has a dual boot into Linux Mint 20.2 OS, which is the most current version.

With rare exception, mobile workstation laptops are not glamorous. It's a category that puts performance, security, and practicality before portability and stylish design. The HP EliteBook 8540w, though maybe not a full exception, proves that a manufacturer can offer a powerful, secure, rugged workstation that looks good, too.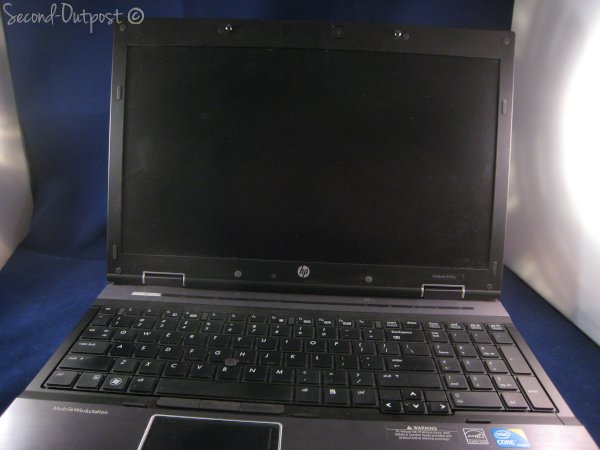 The Good
Excellent configuration options including a color-accurate LCD; great tools for fine-tuning performance and power usage; rugged, but attractive design; lots of security.
The Bad
Heavy; short battery life; small touch pad.
The Bottom Line
The HP EliteBook 8540w is an attractive and versatile mobile workstation that's tougher than it looks.
As a laptop it still suffers from the performance bottlenecks associated with being mobile; consequently, a full-size desktop workstation will outperform it. But that doesn't mean it isn't capable of demanding tasks, and thanks to ample configuration options you can tailor it for your needs. This also includes a premium LCD for anyone who must have accurate colors. Battery life is predictably brief; however, there are ways of dealing with that, too. In the end, its shortcomings aren't any different from what we see on competing workstations, but the overall package and component offerings are excellent.
8540w HP EliteBook Basic Specs
| Price as configured / Starting price (NEW) | $3,122/$1,469 |
| --- | --- |
| Processor | 2.67GHz Intel Core i7-M620 x 2 |
| Memory | 8GB, 1,333MHz DDR3 |
| Hard drive | 500GB SSD |
| Chipset | Intel QM57 |
| Graphics | 1GB Nvidia Quadra FX 880M |
| Operating System | Windows 10 Pro (64-bit) / Linux Mint 20.2 |
| Dimensions (WD) | 14.7 x 9.9 inches |
| Height | 1.3 inches |
| Screen size (diagonal) | 15.6 inches |
| System weight / Weight with AC adapter | 7/9 pounds |
| Category | Desktop replacement |
What's nice about the design of the EliteBook 8540w–and its 17-inch linemate the 8740w–is that it doesn't look like a rugged notebook despite being, in fact, very rugged. HP touts that it's built to meet military standards (MIL-STD 810G) for vibration, dust, humidity, altitude, and high temperature, but you wouldn't know it from its stately appearance. Moreover, HP's DuraCase chassis design is constructed from a magnesium alloy with scratch-resistant anodized aluminum surfaces and metal alloy hinges with hardened steel pin axles.
In addition, the display enclosure is a magnesium shell bonded to anodized aluminum able to withstand up to 300 pounds of pressure. Also, to protect against bumps and drops, the 3D DriveGuard uses a three-axis digital accelerometer that parks the hard drive to minimize damage to your data. It's definitely made to take the abuse of travel, though our review system's travel weight was 9 pounds, 2 pounds of which is the power brick.
Keyboard
The DuraKey keyboard is extremely comfortable to use, with good response and no flex while typing. It also has a full number pad. The keys are clear-coated to reduce wear and the keyboard is spill-resistant and has drains should something spill on it. It's not a backlit keyboard, but HP built in a small pop-out LED lamp above the LCD next to the 2-megapixel Webcam that provides enough light to make working in the dark possible. Above the keyboard are touch-sensitive keys for turning the touch pad and wireless on and off; launching a calculator and e-mail and Web applications; and volume and mute controls.
The e-mail and Web keys work when the system is completely shut down by opening HP's QuickLook 3 for reading e-mail and contact information from Outlook and QuickWeb for simple Web surfing. We're still not sure anyone uses these preboot environments–especially with Windows 7 booting reasonably fast–but it's there if you want to give it a try. If you're the type not to carry a smartphone or have one but want fast access to all your messages, appointments, and contacts–past and present–it's a valuable addition.
Touchpad
Below the keyboard is a disappointingly small touch pad (also clear-coated to reduce wear), though it is joined by a pointstick. Each has a set of three buttons for left and right clicks and scrolling up. They are user-programmable, too. The touch pad has multitouch support, but with it being so small, it's not always the easiest to use.
8540w HP EliteBook Apps
Included with HP's EliteBook workstations are several helpful applications for performance and security. There's the HP Performance Advisor (originally called the HP Performance Tuning Framework) that not only gives you at-a-glance information about your system–everything from component details to performance monitoring–but can be used to optimize the system for individual applications as well as keep them and drivers up-to-date. It basically gives you a single interface for managing your hardware and software for peak performance.
Another application, the HP Power Assistant, lets you easily manage power consumption, which is critical if you're trying to get work done before your battery empties out. Like the Performance Advisor, it's a single easy-to-use interface for viewing and adjusting your power usage and battery life. Also, there are a handful of profile presets or you can set up your own for specific needs. Furthermore, for each profile you can decide what services and devices are managed by the computer. You can view power usage over time, too, to see approximately what it's costing you to run the system. It can even tell you what your carbon footprint is.
8540w HP EliteBook Security
For security there's HP ProtectTools, which has options for complete data shredding for files, folders, and storage drives, drive encryption, and setting up preboot security, and, should you forget your password, it has a SpareKey feature that lets you answer three personal questions to identify yourself. This system also has a fingerprint scanner that makes it easier to set up all of these features in addition to adding another layer of security. Lastly, HP includes Computrace LoJack Pro, which can do a remote wipe of the system and help locate the laptop should it be lost or stolen.
8540w HP EliteBook Display
The 8540w can be found with one of three LED-backlit LCDs. The base model uses a 1,600×900-pixel resolution display, but there are step-up models with FHD 1,920×1,080-pixel resolution screens. This unit has HP's top-of-the-line option, though: a 15.6-inch wide-screen DreamColor 2 RGB LED-backlit 30-bit LCD.
It, too, has a 1,920×1,080-pixel native resolution, but it's an in-plane-switching (IPS) panel instead of a twisted nematic (TN) panel found on most other laptops. This allows for accurate color reproduction (it has 10 bits per color channel and supports more than 1 billion colors versus the 18-bit color accuracy and 260,000 colors of an average display) and a 178-degree-wide viewing angle. Color gamut coverage is 128 percent of AdobeRGB, 130 percent of NTSC, and 149 percent of sRGB/Rec. 709.
The HP Mobile Display Assistant software gives you control over both color space presets and the capability to specify luminance to correspond with color space (AdobeRGB and sRGB), and to set a specific white point, depending on the type of work. In addition, there are multiple color space emulation presets, including native/full gamut (no internal color management applied), sRGB, AdobeRGB, SMPTE-C, Rec709, DCI-P3 emulation, and one user-defined color space. In other words, it's a serious display for professional use and comes with a hefty $425 cost from the base 1,600×900-pixel resolution LCD.
8540w HP EliteBook Ports & Connections
| | HP EliteBook 8540w | Average for category [desktop replacement] |
| --- | --- | --- |
| Video | VGA and DisplayPort | VGA and HDMI or DisplayPort |
| Audio | Stereo speakers, stereo headphone/microphone jacks | Stereo speakers with subwoofer, headphone/microphone jacks |
| Data | 3 USB 2.0, 2 USB 3.0, eSATA, Mini-FireWire, multiformat card reader | 4 USB 2.0, SD card reader |
| Expansion | None | ExpressCard/54 |
| Networking | Modem, Ethernet, 802.11 a/b/g/n Wi-Fi, Bluetooth | Ethernet, 802.11 b/g/n Wi-Fi, Bluetooth |
| Optical drive | Blu-ray ROM/DVD burner | DVD burner [high-end: Blu-ray] |
The port and I/O connections on the 8540w are ample, including five USB ports, two of which are USB 3.0. The power input and VGA connector are on the back where we like them on desktop replacements, though we wish the DisplayPort were back there, too. Above all, the 8540w can support up to four external displays via an optional dock; to clarify, the docking connector is on the bottom of the system along with one for a secondary battery. The stereo speakers pump loud and clear, but they're light on bass. We're OK with that, since audio pros will likely want to take advantage of the stereo headphone/line out jack.
---
---
---